Sports
JoJoLands chapter 9: A new Stand user approaches as the Lava Rock's Mechanisms are revealed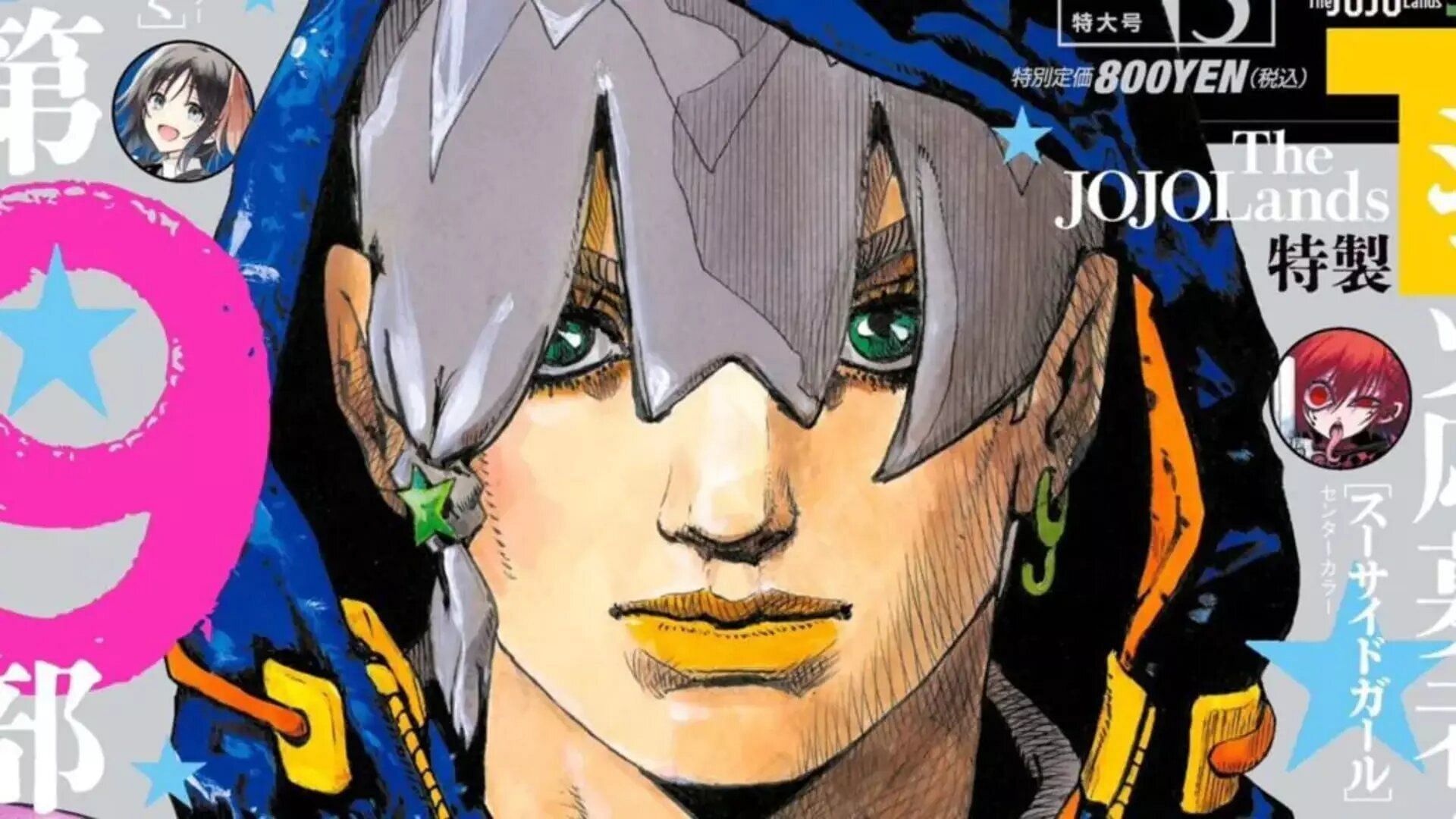 JoJoLands chapter 9 was released on Thursday, November 16, 2023, bringing with it the exciting continuation of Jodio and his friends' attempt to escape from mainland Hawaii. However, this escape was recently complicated by Dragona and Paco's antics within the watch store, as well as Jodio and Paco seemingly being attacked by an unknown assailant.
Surprisingly, JoJoLands chapter 9 makes significant progress in advancing these plotlines, even seemingly concluding one by the issue's end. This apparent conclusion also leads to exciting revelations about the Lava Rock's Mechanisms, which are presented as theories but are likely meant to be taken as concrete fact.
---
JoJoLands chapter 9 reveals how the Lava Rock attracts objects to its owner in direct and indirect ways
Brief chapter recap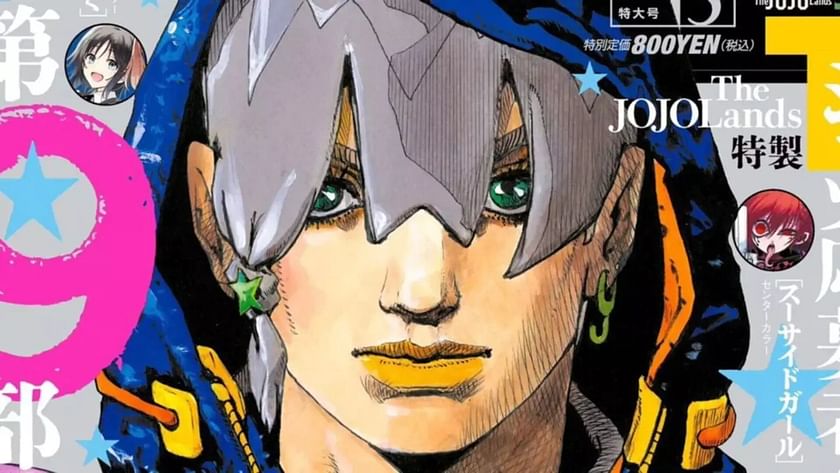 JoJoLands chapter 9 begins with Jodio and Dragona Joestar's mother, Barbara Ann Joestar, calling him after saying Dragona didn't answer his phone. She asks him where they are, and he responds by saying that he had told her this morning that they're on mainland Hawaii today. He comes up with an excuse for why Dragona didn't answer, prompting Barbara Ann to say she hopes they aren't hanging around Paco Lovelantes, claiming she heard a rumor that he spent a year in jail.
She then seems to ask him what they want for dinner offscreen, with Jodio saying he's busy right now, and she can pick whatever she wants. She eventually settles on chicken burritos, telling Jodio to go ask Dragona if that's okay. They hang up shortly thereafter, while Paco asks Jodio which person he got the bag from with the dismembered cats in it.
JoJoLands chapter 9 eventually sees Paco assert that it's a move the mafia would make, or somebody even lower. He asserts that they intend to show their personal code, and their lack of care for societal values by murdering their own cats just to send a message. Paco asserts that they've been watched the whole time, with Jodio asserting that it's likely the same for Rohan Kishibe.
Paco questions if Jodio thinks the Lava Rock belonged to whoever is stalking them now at first, prompting Jodio to remember the map on the iPad Rohan had. He remembers that it was of a spot in Hawaii, and that there was a specific mark on it. He surmises that it's an important place relative to the rock, possibly its origin point or source.
JoJoLands chapter 9 then saw Jodio say they should call Usagi Aloha'oe and Dragona back from the watch store, but Paco says returning the Lava Rock is the bigger concern. He asserts that they should just finish the job they were meant to do by returning the diamond, and return the Lava Rock. Jodio rejects this, telling Paco he should make up his mind, so they can move forward.
Jodio asserts that Rohan is the original owner since he was investigating what the Lava Rock was when they stole it. Likewise, if this person was watching Rohan as he studied it, then they also don't know what it does, and it's therefore not theirs. Jodio further reminds Paco that he promised Rohan to crush the Lava Rock up and throw it into the sea if he couldn't escape the island with it. Likewise, the attacker needs to be cautious, so they don't lose the Lava Rock too.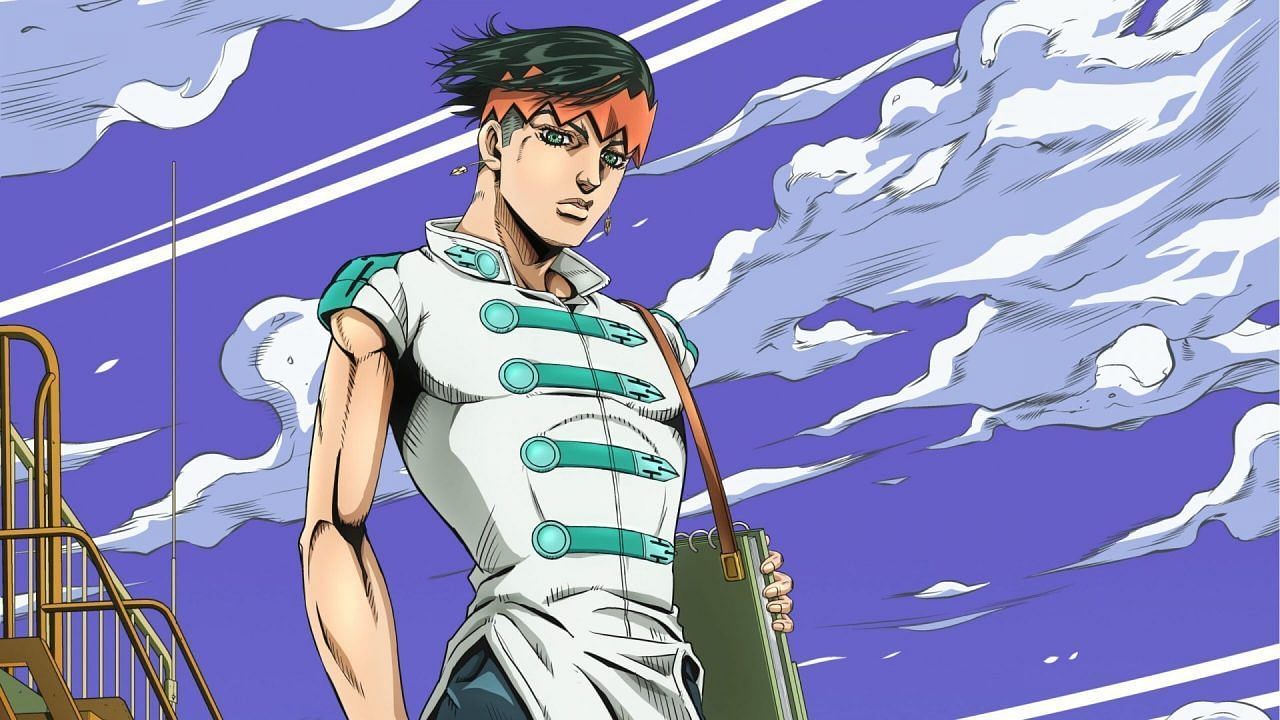 JoJoLands chapter 9 then sees Jodio assert that their attacker will take the diamond as well, and that if this really is the mafia, then they'll leave no witnesses. Jodio ends by asserting that they're in an unfortunate position, and need to make up their minds about what to do so they can move forward.
The scene then shifts to inside the watch store, where Dragona and Usagi are emptying out their pockets and bags for the shopkeeper to check. The shopkeeper questions where they possibly hid the watch, while Dragona herself questions where it went. She also questions why only one of the watches disappeared when she touched all four to the Lava Rock, asserting that there must be something different about that watch specifically.
JoJoLands chapter 9 then sees the shopkeeper try to call the police, but Dragona and Usagi prevent that by pointing out that they're technically being illegally detained. The shopkeeper then says they can leave anytime they want, once they check the recording of the four cameras in the room, claiming that their thievery will be revealed likewise.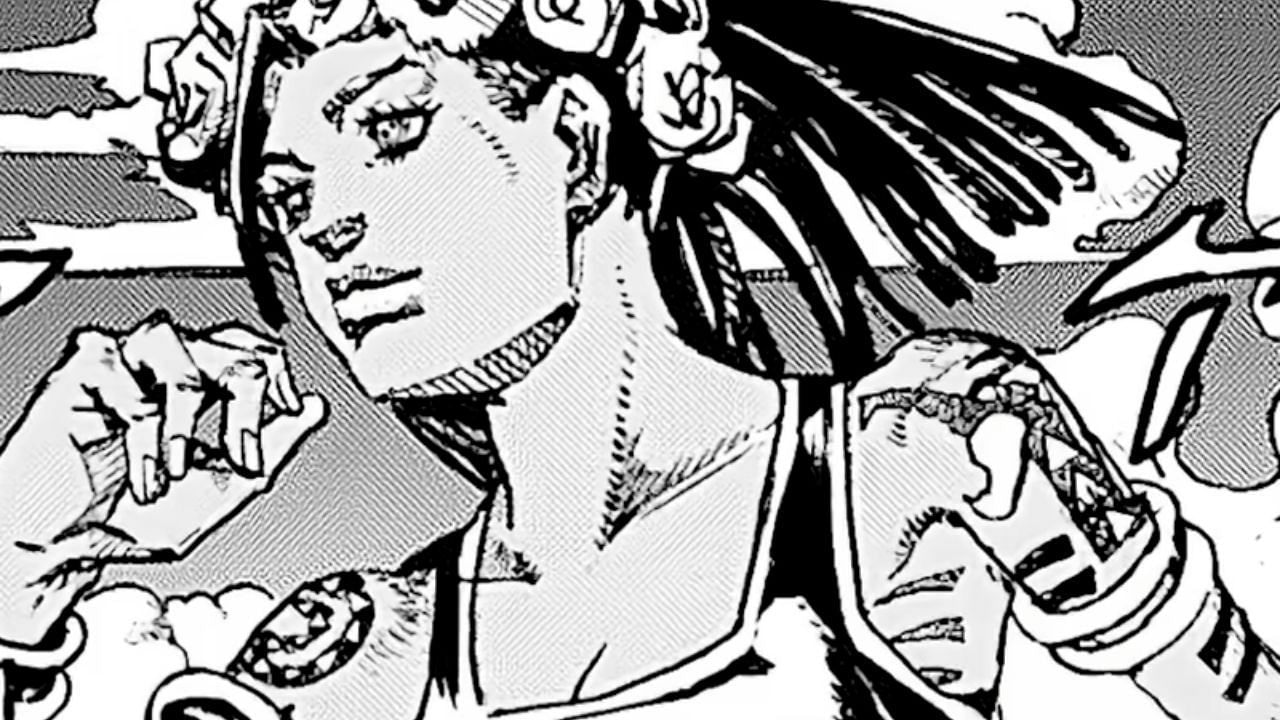 Dragona and Usagi hilariously say they also want to see what happened for themselves, as the shopkeeper rewinds the footage to where the watch was last seen. Shockingly, it's revealed that Dragona apparently slipped the watch through her bracelet and removed it from the table. She claims she doesn't remember doing this, but looks into her charm on her chest and sees the watch affixed to the Lava Rock.
JoJoLands chapter 9 then reveals that Smooth Operators moved the watch, claiming she has no memory of having Smooth Operators do this. The shopkeeper asserts that a full body search needs to be done on Dragona, but they only find the Lava Rock in her charm. Dragona questions where the watch went, when it's revealed to be caught up in the shopkeeper's shoe laces.
However, when he reaches for it, the watch begins sliding around on the ground, but is eventually caught as the shopkeeper apologizes to Usagi and Dragona. The two decide to leave, while Dragona asserts that eventually, the watch will come back to the Lava Rock and her as a result. She then claims that the Lava Rock uses people's emotions and connections to ensure valuable items are attracted and return to the Lava Rock's owner(s).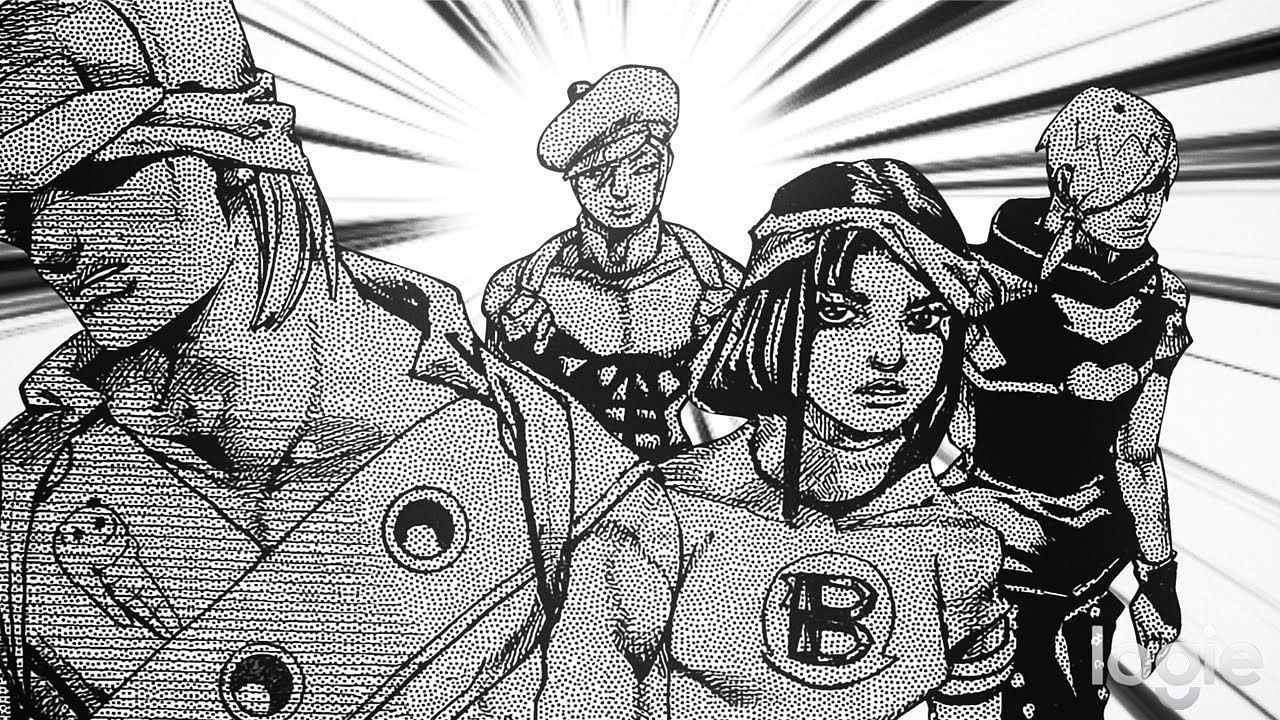 JoJoLands chapter 9 then returns to Jodio and Paco, where they declare that they need to call Usagi and Dragona back. However, another Paco shockingly shows up, apologizing for taking so long to get some food for them. Paco then notices the other version of himself next to Jodio, which begins crumbling away as if a Stand power is being deactivated.
It's revealed that the Paco whom Jodio has been speaking with is a fake, lamenting their decision to not give the Lava Rock back when they had the chance. The chapter ends with this assailant pulling out a knife, swinging it at Jodio and slitting his throat at it.
---
In review
JoJoLands chapter 9 is incredibly well written in so many aspects, the chief of which stems from the reveal of the Lava Rock's Mechanisms. While Dragona's conclusion is posited as just a theory, this is almost certainly Araki telling readers exactly how the Lava Rock works. Likewise, the reveal and actual functionality of the object is brilliant, not to mention plausible and flexible enough to be used in multiple ways throughout the series.
The reveal of the fake Paco is equally well-written, and gives good reason for why he and Jodio are seemingly so opposed in their desired course of action throughout the issue. This reveal also ties into Barbara Ann's warning at the beginning of the chapter, providing a full circle narrative which is as impressive as it is enthralling.
---
In summation
Overall, JoJoLands chapter 9 is an exciting addition to the series, which sets up the next major Stand fight in the series.
However, with Jodio seemingly out of commission for now, it'll likely be Paco's time to shine and show readers what The Hustle can do in a combative context.
---
Be sure to keep up with all anime, manga, film, and live-action news as 2023 progresses.
Sportskeeda Anime is now on Twitter! Follow us here for latest news & updates.
"
modalPopup.closeOnEsc = false;
modalPopup.setHeader("Why did you not like this content?");
modalPopup.setContentText(modalText);
modalPopup.addCancelOkButton("Submit", resetRatingAndFeedbackForm, sendRating);
modalPopup.removeCloseModalIcon();
modalPopup.disableDismissPopup();
modalPopup.open();
} else {
sendRating(index);
}
}
function sendRating() {
var requestPayload = {
"post_id": 1749225,
"rating_value": ratingValue
}
if (ratingValue > 3) {
requestPayload.rating_feedback_type = null;
requestPayload.rating_feedback = null;
} else {
if (!$('input[name="drone"]:checked') || !$('input[name="drone"]:checked').value) {
showErrorMessage('option');
return;
}
if (!$(".post-rating-feedback-note textarea") || !$(".post-rating-feedback-note textarea").value) {
showErrorMessage('note');
return;
}
var selectedOption = $('input[name="drone"]:checked').value;
var feedbackNote = $(".post-rating-feedback-note textarea").value;
requestPayload.rating_feedback_type = selectedOption;
requestPayload.rating_feedback = feedbackNote;
}
pureJSAjaxPost(addratingAPI, requestPayload, onsaveRatingSuccess, onsaveRatingFail, function() {}, true);
}
function resetRatingAndFeedbackForm() {
var activeStars = Array.from($all('.rating span.rating-star.active'));
for (var i=0; i < activeStars.length; i++) {
activeStars[i].classList.remove("active");
}
if ($('input[name="drone"]:checked')) {
$('input[name="drone"]:checked').checked = false;
}
var userNote = document.querySelector(".post-rating-feedback-note textarea");
userNote.value="";
modalPopup.close();
}
function onsaveRatingSuccess() {
modalPopup.close();
savePostIdInUserRatedPostsCookie();
$("#post-rating-layout").classList.add("hidden");
$("#post-rating-message").classList.remove("hidden");
window.setInterval(function showMessage() {
$("#post-rating-widget").classList.add("hidden");
}, 3000);
}
function onsaveRatingFail() {
console.error('Saving post rating failed!');
modalPopup.close();
}
function savePostIdInUserRatedPostsCookie() {
userRatedPostIds.push(1749225);
var expiryTime = new Date();
expiryTime.setMonth(expiryTime.getMonth() + 12); // Expiry after 1 year
setCookie("user_rated_post_ids", JSON.stringify(userRatedPostIds), expiryTime);
}
function isPostRatedByUser() {
var userRatedPostIds = getCookie('user_rated_post_ids');
if (userRatedPostIds) {
try {
userRatedPostIds = JSON.parse(userRatedPostIds);
} catch (err) {
console.error(err);
return false;
}
} else {
return false;
}
if(userRatedPostIds.indexOf(1749225) >= 0) {
return true;
} else {
return false;
}
}
function getRatingCountByPostId(postId) {
return new Promise(function(resolve, reject) {
pureJSAjaxGet(
getRatingCountBaseURL + postId + '/rating/count',
function(data) {
try {
data = JSON.parse(data);
if (data.meta_value) {
resolve(data.meta_value);
}
reject("Failed to fetch rating count for the post:" + postId);
} catch (err) {
reject("Failed to fetch rating count for the post:" + postId);
}
},
function(err) {
reject("Failed to fetch rating count for the post:" + postId);
}, true);
});
}
function showErrorMessage(messageType) {
var messageContainerId = '#' + messageType + '-error';
$(messageContainerId).classList.remove('hidden');
window.setInterval(function () {
$(messageContainerId).classList.add("hidden");
}, 5000);
}
(function() {
var callFired = false;
function lazyLoadPostRating() {
if (callFired) return;
callFired = true;
if (!isPostRatedByUser()) {
getRatingCountByPostId(1749225)
.then(function(ratingCount) {
if (ratingCount < 10) {
$("#post-rating-widget").classList.remove("hidden");
}
})
.catch(function(err){
console.error(err);
});
}
}
document.addEventListener("scroll", lazyLoadPostRating, { passive: true, once: true });
document.addEventListener("mousemove", lazyLoadPostRating, { passive: true, once: true });
document.addEventListener("touchmove", lazyLoadPostRating, { passive: true, once: true });
})();