Sports
NBA: Luka Doncic and Hardaway push Mavericks to big win over Wizards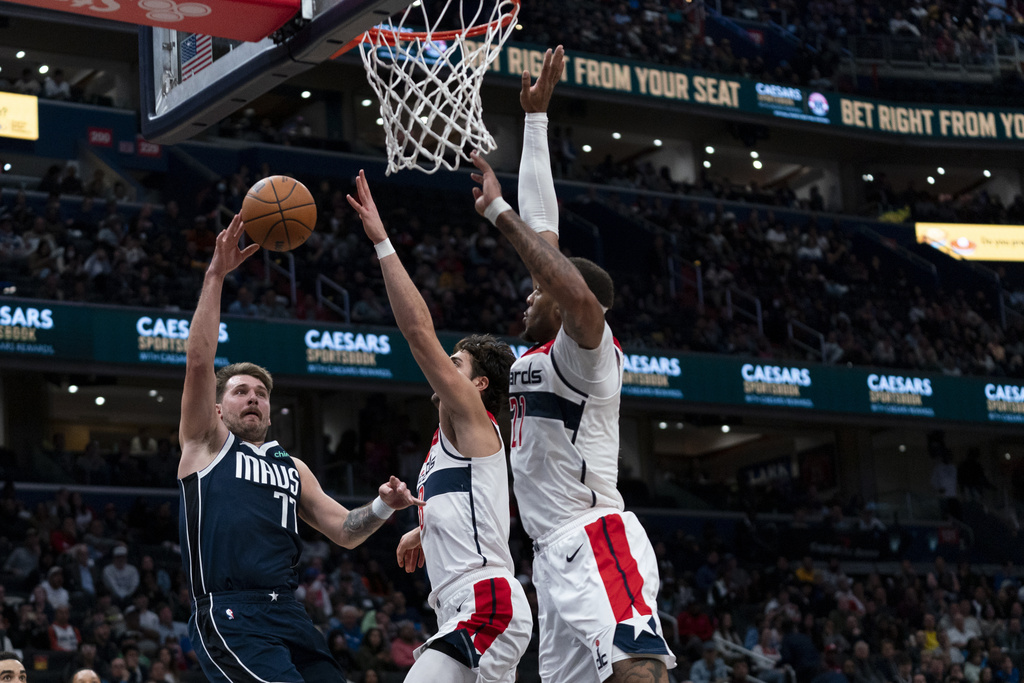 WASHINGTON Luka Doncic scored 26 points and had 10 assists as the Dallas Mavericks posted a 130-117 victory over the Washington Wizards in the NBA on Wednesday night.
Doncic also grabbed seven rebounds and fell short of his third double-double of the season after being held to a season-low 16 points on Tuesday against New Orleans.
Tim Hardaway Jr. scored 31 points and missed seven three-pointers for the Mavericks while overnight point guard Kyrie Irving sat out with a sprained left leg.
"His left foot is bothering him. It's painful," Mavericks coach Jason Kidd said before the game. Irving, who played 26 minutes in Tuesday's loss. – That's why we simply won't take any risks.
Derrick Jones Jr. had 20 points and Dereck Lively II had 17 on 7 of 8 shots on goal. Dallas led by double digits for the final three quarters and missed 17 three-pointers as a team, making 15 made threes for the 10th time in the first 12 games.
"I thought Luka and this group set the tone by understanding coming in at 4 a.m. and the (potential) excuses of being tired or having a schedule," Kidd said. "I thought there was maturity and confidence in the execution. They did a great job from the very beginning."
Luka and Tim Hardaway Jr. they put WORK into the first half 🤝

Luka: 21 pts, 4 REB, 4 AST
THJ: 22 PTS, 5 15:00

Wizards-Mavs | Live on the NBA app
📲 pic.twitter.com/XqfzBcrmvP

— NBA (@NBA) November 16, 2023
Kyle Kuzma scored 22 points to lead the Wizards, who lost for the fourth straight two nights after regaining a double-digit lead in a loss to Toronto. Jordan Poole added 16 points and Deni Avdija 15.
Dallas took control after a 25-8 first quarter that ended with a 32-17 lead. The Mavericks increased their lead to 25 points in the second quarter, took a 71-51 lead at halftime and finished the night by assisting on 32 of 48 field goals.
"We obviously have more challenges ahead of us, but we're playing well," said Seth Curry, who added 15 points and hit all six shots off the Mavericks bench. "It's not just the winning that counts, but the way you win is the way you play."
Hardaway hit three three-pointers in the second quarter, and both he and Doncic crossed the 20-point mark at halftime.
Between Wednesday's first half and Monday's second half, Washington trailed by 43 points over four quarters.
"I thought we didn't approach it the right way in the first quarter as far as the coverage confusion, communication, some turnovers," Wizards coach Wes Unseld Jr. said.
IN THE FUTURE
Mavericks: Continue their four-game road trip Saturday in Milwaukee.
Wizards: Play second of three on Friday at home against New York.